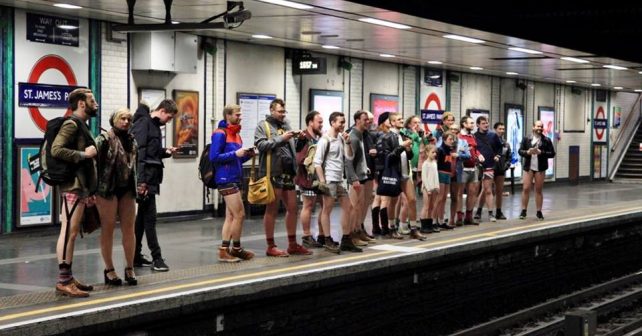 2019 is in full swing now and we've been scouting around London for the best things to do on the cheap this weekend. (It is January after all!) Here's our top tips.
=======
It's back – the quirkiest train ride of the year! The No Trousers Tube Ride 2019 is on this Sunday and everyone's invited to take part.
It's the 10th incarnation so it's become something of an institution. Basically, we're talking a ton of people in their pants. If you're brave enough, it all kicks off outside the National Gallery with participants sporting their best underwear. (Strictly no greying, fraying elastic jobs.) Then groups ride the tube for a couple of hours before heading to an after-party.
Anyone can take part and it's  FREE to join so just bring your Oyster card and a bag to stash your trousers.
Sun Jan 13th, meet at 2.30pm in front of the National Gallery, WC2N 5DN 
FREE – for all other info click here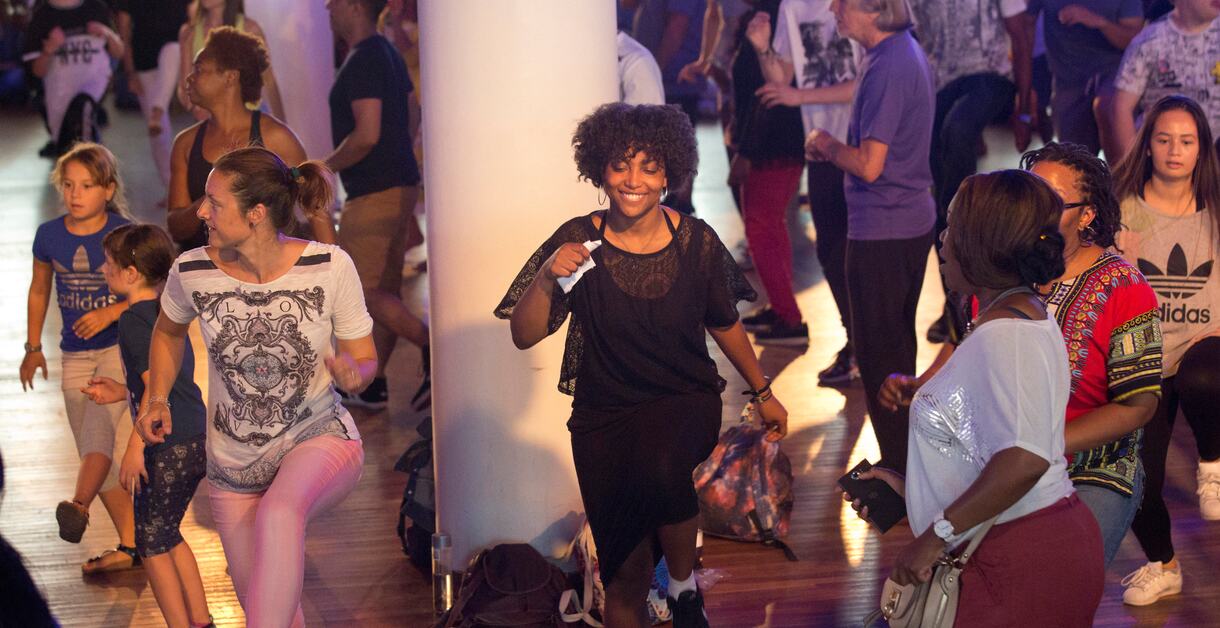 Shake a tail feather this weekend at the Ballroom Get Down; two FREE nights of parties at the Royal Festival Hall!
Back to back shows soundtracked by DJ DBO is calling on solo dancers and troupes to come boogie to three hours of hip-hop, funk and soul. Sweet!
Fri 11th and Sat 12th, 7pm – 10pm: Ballroom Get Down
Royal Festival Hall (The Clore Ballroom, Level 2), Southbank Centre, Belvedere Road, SE1 8XX
FREE – just show up. For all other info click here
Add a bit of culture to your Saturday with a spot of FREE classical music in Waterloo.
An orchestra of amateur musicians will be performing Mozart's Requiem at St John's Church. Just show up and enjoy.
Sat 12th Jan, 5.30pm – 7.30pm: Mozart Requiem's at St John's Church
St John's Church, Waterloo, 73 Waterloo Road, Lambeth, SE1 8TY
FREE – just show up. For more info click here
If you're one of the thousands of Londoners taking part in a booze-free Dry January (and even if you're not) why not get down to a weekend of talks, demonstrations and mocktail tastings at the Mindful Drinking Festival.
Visitors to the Truman Brewery weekender will have the chance to sample gins, pale ales, tequilas, ciders and wines. – all alcohol free! If you fancy the littlest of tipples, there'll be some 0.5% proof Gordon's Ultra Low Alcohol G&T to sample too.
Other highlights include sober yoga classes, professional tips on how to give up the grog and a Q&A with BBC's Adrian Chiles.
Sat 12th (11am – 6pm) & Sun 13th (10am – 5pm): Mindful Drinking Festival London
Truman Brewery, Brick Lane, E1 6QR
Entry and everything listed is FREE. For a full list of what's on click here
Need more inspiration?
Doing Dry January? Enjoy a FREE mocktail across London at multiple locations
Check out this FREE exhibition on all types of addiction from the tech kind to the substance type
Catch this brilliant Pop Art display at the Saatchi Gallery before it closes next week